Publicist Confirms Whitney Houston's Death
Photo credit: /WENN
Whitney Houston has died at the age of 48, her publicist Kristen Foster confirmed on Saturday, February 11. Details surrounding her death are still scarce because Foster did not say the cause and the location of her death.
TMZ's sources however said that she died died at the Beverly Hilton hotel because a police crime lab vehicle was seen outside the hotel. On Thursday, February 9, she was spotted looking worse for wear in Hollywood, California after enjoying a party with friends. According to Daily Mail, "Whitney had what is believed to be blood dripping down her leg and scratches on her wrist and she had to be escorted from the club to her car by a few people."
Houston reigned the mid 1980s and late 1990s with her golden voice and her acting role in "The Bodyguard". But her life spiraled down after she used drugs and got into tumultuous marriage to singer Bobby Brown.
Fellow stars have poured in their condolences on Twitter. "This can't be true... One of my idols gone?? No. This is so unbelievably sad...," Demi Lovato tweeted. Ryan Seacrest wrote, "At Grammys rehearsal hearing Whitney Houston has passed away at 48. Everyone here is absolutely stunned."
....................................................................................................................................................................
(USA TODAY) -- There is the handwritten draft, complete with cross-outs, of Martin Luther King's acceptance speech for the 1964 Nobel Peace Prize. There are notes about the ending of King's iconic I Have a Dream speech. And there are charming letters he received from children.
RELATED | Ebenezer pastor celebrates MLK, blasts Gingrich
RELATED | Friend, driver of MLK reminisces
These and other King papers - 200,000 documents in all - will be available online for the first time today, as the nation marks Martin Luther King Day.
The King Center Imaging Project, financed and overseen by JPMorgan Chase, offers free public access to the papers at TheKingCenter.org/archive.
The project came about after Martin Luther King III contacted Chase about preserving the documents, said Chase's Ali Marano, project facilitator. AT&T Business Solutions and EMC also contributed.
For the past nine months, 300 Chase staff members, college students and veterans hired by the company, and 100 volunteers from around the world have sorted through boxes of personal papers, documents and handwritten notes. They have taken digital images of each one, indexed them and stored them in acid-free containers with bar codes.
Coachella 2012: Remaining $285 passes to go on sale Friday



Three-day passes for the two April weekends of Coachella Valley Music & Arts Festival will be available on the fest's official site beginning at 10 a.m. Friday PST. Since the lineup was announced Monday afternoon, the Coachella site has been struggling to manage the traffic influx and has been largely shut down.

Rapper Dr. Dre will close the 2012 edition of the annual Indio festival, to be held for the first time over consecutive weekends, the first April 13-15 and the second April 20-22. Each weekend, featuring identical lineups, is a separate ticket. Only weekend passes are available.

Titckets were first sold for the 2012 editions of Coachella

in June 2011

. They were available for only a week, and it was unknown how many were snatched in the initial on-sale. Though the event was 10 months out and artists had yet to be announced, multiplying Coachella into separate festivals to be staged over consecutive April weekends didn't seem to lessen the immediate rush for tickets. Wait times for tickets varies, but a 35-minute queue wasn't out of the ordinary.

The June on-sale marked the first time Goldenvoice, Coachella's promoter, used Front Gate tickets rather than the more ubiquitous Ticketmaster for the general on-sale. Once charges were factored in, a general admission three-day pass came to about $315, but the Coachella site was loaded with options, ranging from shuttle trips to VIP passes. Depending on the package chosen, two Coachella tickets could push $1,300.

Tickets that will go on-sale Friday will range from $285 for a three-day pass to $665 to a VIP festival pass. There is also a general admission ticket that includes a hotel shuttle option for $335. All prices noted are quoted without the addition of service fees. It is recommended that those intending to purchase tickets should set up their account on the Coachella page Thursday evening.

While it was unknown how many tickets Goldenvoice had already sold for the weekends, the promoter had previously announced that it would not be offering a layaway option beyond the June pre-sale. The layaway plan offered fest-goers the ability to place 10% down and then make eight equal monthly payments.

Fans were allowed to buy tickets for each weekend, should they be inclined, but festival passes will be limited per household. In June, passes were limited to four per household. Additionally, fans will not be allowed to change weekends once a purchase has been made. Passes will be mailed in March. International attendees will have the option of picking up their passes at an off-site will call.

Though Coachella will close with a double hip-hop pairing of Dr. Dre and Snoop Dogg on the Sunday evenings, rock acts will get top billing the other nights. Bluesey rockers the Black Keys will anchor a Friday that will also feature singer-songwriter Cat Power, reggae legend Jimmy Cliff and psychedelic electronic act M83. Radiohead will close the festival's Saturday evenings, with breakout indie star Bon Iver, reclusive indie rocker Jeff Mangum and noIse instrumentalists Godspeed You Black Emperor also on the bill.

;;;;;;;;;;;;;;;;;;;;;;;;;;;;;;;;;;;;;;;;;;;;;;;;;;;;;;;;;;;;;;;;;;;;;;;;;;;;;;;;;;;;;;;;;;;;;;;;;;;;;;;;;;;;;;;;;;;;;;;;;;;;;;;;;;;;;;;;;;;;;;;;;;;;;;;;;;;;;;;;;;;


Father complains Beyoncé's security team 'barred him from seeing premature twins in hospital's intensive care-unit'
By ALANAH ERIKSEN
The father of premature twins born at the same hospital as Beyoncé and Jay-Z's baby girl says her security kept him from seeing the newborns.
The 30-year-old singer's daughter, Blue Ivy Carter, arrived via scheduled caesarean section at Lenox Hill Hospital in New York City on Saturday night.
But Neil Coulon, 38, of Brooklyn said the stress of his wife delivering two premature girls was tripled when Beyoncé's bodyguards repeatedly barred him from the sixth-floor neonatal intensive care unit.
Superstar: Beyonce, seen two days before giving birth, has upset a man who was stopped while trying to visit his newborn premature children
Security also cleared a waiting room, booting his relatives out, he told the New York Daily News, which described them as treating the hospital like 'an exclusive nightclub'.
'Three times they stopped me from entering or exiting the NICU and it happened once on Friday — just because they wanted to use the hallway,' he said.
'They should have been more strategic about it, These are children with problems in intensive care and you're just going to take over the hospital like you own it? All I want is an apology.
BLUE IVY CARTER - MEANING OF HER NAME
Ivy is in reference to the couple's love of the number four - roman numeral for 4 is IV
Beyoncé and Jay-Z were married on April 4, 2008
Jay-Z's birthday is December 4
Beyoncé
's birthday is September 4
Beyoncé
and Jay-Z have matching IV tattoos on their wedding fingers
The singer's latest album is called 4 which was her fourth solo studio album
Jay-Z has a trilogy of albums under The Blueprint banner which could have inspired his daughter's name
He has released The Blueprint, The Blueprint 2: The Gift & The Curse and The Blueprint 3
It has been reported that the couple spent $1.3 million (£842,000) to seal off and redecorate a wing.
Mr Coulson said he was appalled at the double standards.
'I'm just a contractor... but the treatment we received was not okay.
'My wife is just terribly upset. She had a C-section. She gave birth to twins. She is sore. Nobody needs this.
'This is the NICU. Nobody cares if you're a celebrity. Nobody is star-gazing. They just want to see their children. To have that circus roll into town and ruin our parade was unpleasant.'
A Lenox Hill staffer told the paper: 'Some people were upset. I heard a gentleman say he couldn't go upstairs to see his baby'.
But hospital spokeswoman Anne Silverman said she had not personally heard of the complaints.
'We take patient satisfaction very seriously. This is the first time I'm hearing about it.'
Meanwhile, a Boston-area event planning company has been flooded with calls because its name is also Blue Ivy, reported TMZ.
Owner Veronica Alexandra said she been getting phone calls, texts and Facebook posts from friends since the baby's name was announced.
Before this weekend, her site came up first when someone Googled the name.
She told the website she'd love to plan all of the little girl's milestone celebrations and even said the baby should be the new face of her company.
'Clearly great minds think alike, and who better than our Blue Ivy to plan events for B&J's Blue Ivy?'
Linguists name 'occupy' as 2011's word of the year - CNN.com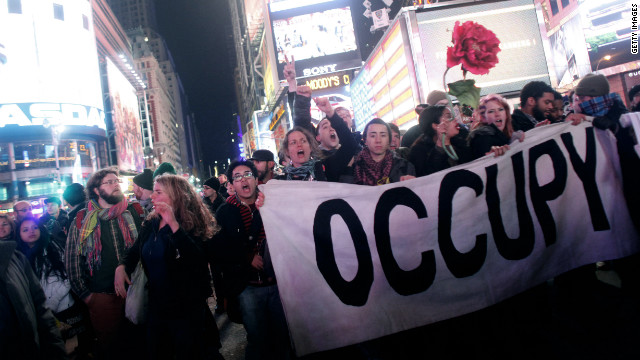 (CNN) -- The linguists have spoken and they have decided -- "Occupy" is 2011's word of the year.
Members of the American Dialect Society came out in record numbers to vote Friday night at the organization's annual conference, held this year in Portland, Oregon.
"Occupy" won a runoff vote by a whopping majority, earning more votes than "FOMO" (an acronym for "Fear of Missing Out," describing anxiety over being inundated by the information on social media) and "the 99%," (those held to be at a financial or political disadvantage to the top moneymakers, the one-percenters).
Occupy joins previous year's winners, "app," "tweet," and "bailout."
"It's a very old word, but over the course of just a few months it took on another life and moved in new and unexpected directions, thanks to a national and global movement," Ben Zimmer, chair of the New Words Committee for the American Dialect Society, said in a statement.
The Occupy Wall Street movement began in September in Lower Manhattan, before spreading to communities around the country and the world as a call to action against unequal distribution of wealth and other issues.
Founded in 1889, the American Dialect Society is made up of "academics, linguists, anyone involved in the specialization of language," according to Grant Barrett, the society's vice president.
Barrett, who also co-hosts "A Way with Words," a public radio program about language, said the annual conference provides an opportunity for linguistics professionals and graduate students to share information and research.
But Barrett says the word of the year vote, now in its 22nd year is, "light-hearted and whimsical."
Nominations for the word of the year are submitted by society members in attendance at the annual conference, but can also be submitted by the community at large.
"Occupy" may have taken top honors, but several other words and phrases received recognition.
"Mellencamp," a woman who has aged out of being a "cougar" (after John Cougar Mellencamp), and "kardash," a unit of measurement consisting of 72 days, after the short-lived marriage of Kim Kardashian and Kris Humphries, were both recognized in the "Most Creative" category.
Barrett said many of the nominated words that have significance now likely won't stand the test of time.
For instance, "Tebowing" and "9-9-9" were quite popular in 2011, but Barrett doubts they'll last very long.
Some words are just outright unnecessary -- like Charlie Sheen's "bi-winning," a term he used to describe himself pridefully, dismissing accusations of being bipolar, and "amazeballs," a slang form of amazing.
In the most outrageous category, "deather" -- one who doubts the official story of the killing of Osama bin Laden -- was recognized.
While all in good fun and a chance for "good-natured intelligent people to let their hair down," Barrett hopes the word of the year vote conveys two important messages to even the purist of linguists: "Language change is normal. Language change is interesting."